Wiretaps, witness interviews, court recordings and detective recollections piece together this true crime podcast hosted by Michael Connelly that explores real homicide cases not covered by mainstream media.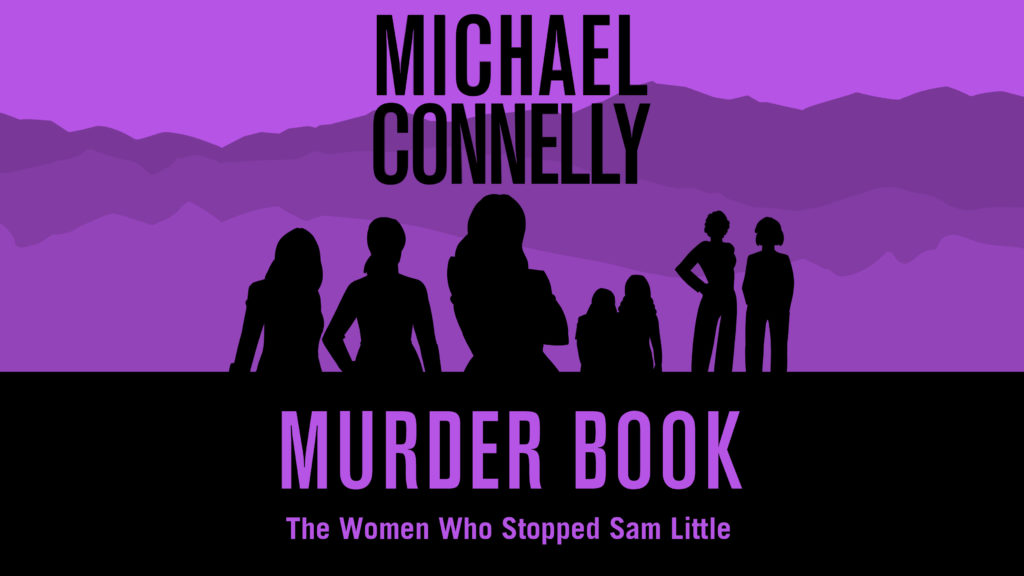 Coming Soon: Murder Book Podcast Season Two – The Women Who Stopped Sam Little. This season we go behind the headlines and track the investigation that uncovered the man the FBI has called the most prolific serial killer in American history. Sam Little roamed the country for five decades killing women at will. He stayed below law enforcement radar because of the victims he chose: women from the fringe — drug users and sex workers, victims society paid little attention to. But in 2012 he came up on Detective Mitzi Roberts' radar and everything changed. The Los Angeles Police Department cold case investigator relentlessly hunted Little across the country before he was captured and brought to justice with the help of a group of equally fierce women that included a prosecutor, a writer and several women who survived brutal attacks from Little.
Listen now to Murder Book Podcast Season One: The Tell-Tale Bullet. The podcast dives into a thirty-year-old Hollywood killing that tests the limits of the American criminal justice system. Carjacking, Gunshots, and Murder. Hollywood, 1987. LAPD Detective Rick Jackson is called to a crime scene outside a popular Hollywood nightclub. There's a gun, a fingerprint, and a bullet on the ground that will hold the key to unlocking a case that would last 32 years, the longest and most challenging homicide investigation of Jackson's career.
---
You can listen to this free podcast on most podcast apps. You can also listen to each episode on the website MurderBookPodcast.com. See photos, transcripts and bonus material for the episodes on the web site.
Help us spread the word! If you like what you hear please share Murder Book with your friends and family and please leave a rating and review.
Listen To Murder Book on Apple Podcasts. Be sure to subscribe, rate and review!

Learn How To Listen To The Podcast
"I have written novels that have sold more than 70 million copies around the world but my success as a guy "who makes it up" came after a career as a journalist who covered law enforcement and crime for newspapers on both coasts," said Michael Connelly. "No matter what success I achieve as a storyteller I have always and will always feel I am still a journalist at heart — I put the truth in my novels and I research them like a reporter on a story. In the last couple years as I have seen a growing threat against the integrity of journalism and law enforcement, it has awakened a desire in me to return in some way to telling the real stories of the unsung heroes of law enforcement. What better place than in a podcast, which I view as the new arena of journalism. It is not the written truth but the spoken truth. The Murder Book podcast will tell it like it is from the front line of the justice system, exploring the stories of law officers who are relentless in their pursuit of justice and the truth. These will be stories that inspire me and may inspire the listeners as well."
– Michael Connelly
Join the Murder Book Mailing List
Murder Book Insider! Want to get the scoop on the podcast? Join the Podcast mailing list for podcast updates.