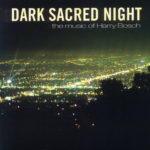 Dark Sacred Night: The Music Of Harry Bosch
This limited edition jazz CD was given away on Michael's April 2003 book tour for Lost Light. It is no longer available and was never sold separately.
I am not sure what it is but there is a connection or correlation between jazz and writing. There is also a connection between jazz and the detective. Whenever I write a Harry Bosch novel I am usually listening to jazz. It inspires me. Maybe the improvisation of the music helps the improvisation of the writing. I don't know why but it helps. It also helps me set the character of this detective. Invariably, the music I am listening to ends up in the books—usually on Harry Bosch's CD player. I think the music he listens to says a lot about him. So here is the music of Harry Bosch. I hope you enjoy it.
— Michael Connelly
Song List
1. "Lullaby" – Frank Morgan, Mood Indigo
2. "Soul Eyes" – John Coltrane, The Gentle Side Of John Coltrane
3. "My Funny Valentine" – Art Pepper and the Hollywood All-Stars,
Art Standards
4. "My Foolish Heart" – Bill Evans, Bill Evans Walkman
5. "Mood Indigo" – Frank Morgan, Jazz 'Round Midnight
6. "For All We Know" – Sonny Rollins, Falling In Love With Jazz
7. "Lush Life" – Joe Henderson, The Definitive Joe Henderson
8. "Straight Life" – Art Pepper, Art Pepper Meets The Rhythm Section
9. "Willow Weep For Me" – Clifford Brown, Clifford Brown
10. "What A Wonderful World" – Louis Armstrong, Pure Jazz
Liner Notes
We were lucky enough to get Gary Giddins to write these liner notes for us. Gary is a columnist for the Village Voice whose books include "Bing Crosby: A Pocketful of Dreams," "Visions of Jazz," "Satchmo," and "Faces In the Crowd." The passages in boldface are from the Harry Bosch novels.
Dark Sacred Night by Gary Giddins
Harry Bosch is too savvy and emotional a jazz lover to favor musicians just because of the lives they've led. Yet he plainly has a soft spot for those who have sparred with demons and stayed the course. Perhaps he simply responds to musical tales in which profound beauty and deep woe are inseparable.
Bosch thought he knew nothing truer than the sound of a saxophone.
— The Black Ice
Take Frank Morgan, who was born in Minneapolis in 1933, and moved to California after the war. Having met Charlie Parker as a boy, he attempted to emulate him for good and bad. His talent on alto saxophone brought him a recording session at 20, but his addiction to heroin put his career on hold for 30 years. On one occasion, he attempted armed robbery — with a BB gun. The woman behind the counter laughed and said, "If you're hungry, I'll give you a bag of doughnuts." After finally deciding he'd seen enough of prison cells, Frank made a fabled New York debut in 1986, and has headlined jazz clubs and festivals ever since. His two selections here are from a 1989 album, Mood Indigo: "Lullaby," a brief duet with pianist George Cables, who wrote it; and Ellington's "Mood Indigo," a full-bore treatment, at once dark and affirmative (no one else makes the alto cry like that), with Wynton Marsalis's trumpet and Ronnie Mathews's piano sustaining the mood.
I lifted the saxophone out of the case and held it in position, ready to play. We always began each lesson with me trying to play "Lullaby," a song by George Cables that I had first heard on a Frank Morgan disc. It was a slow ballad and easier for me to play. But it was also a beautiful composition. It was sad and steadfast and uplifting all at the same time. The song wasn't even a minute and a half long but to me it said all that ever needed to be said about being alone in the world. Sometimes I believed that if I could learn to play this one song well then that would be enough for me. I would not be wanting.
— Lost Light
Few sounds are as immediately recognizable as that of John Coltrane's tenor, and the gorgeous "Soul Eyes" — a Mal Waldron tune, recorded in 1962 with the classic Coltrane quartet: McCoy Tyner, Jimmy Garrison, Elvin Jones — shows how completely he could remake a ballad in his own image. Born in 1926, Coltrane, too, wasted years on drugs and drink, but got over it early, crediting a religious experience in his late-twenties with turning him around. Within a few years, he was the most admired new voice in jazz. Yet the damage had been done, and his body gave out in 1967.
Julia Brasher stood in the living room of Bosch's house and looked at the CDs stored in the racks next to the stereo.
"I love jazz."
Bosch was in the kitchen. He smiled when he heard her say it. He finished pouring the two martinis out of a shaker and came out to the living room and handed her a glass.
"Who do you like?"
"Ummm, lately Bill Evans."
Bosch nodded, went to the rack and came up with "Kind Of Blue." He loaded it into the stereo.
"Bill and Miles," he said. "Not to mention Coltrane and a few other guys. Nothing better."
— City Of Bones
Art Pepper's career might have served as a template for Morgan's. Born in 1926, in Gardena, California, he showed promise at 18, and fulfilled it within a decade, achieving stardom as the quintessence of West Coast jazz: cool on the surface, a cauldron underneath. Narcotics took him off the scene for a decade, but a belated 1977 New York appearance put him back as both an oracle of the underworld and a player of ruthless candor. He wrote the memoir Straight Life and made so many records they were still surfacing 20 years after his 1982 death. Harry Bosch likes him in both periods. On 1980's "My Funny Valentine," Art revises the melody, intensely articulating each note, cradled by pianist Russ Freeman. The diabolically fast "Straight Life," loosely based on chords to "After You've Gone," appeared on a 1957 classic, Art Pepper Meets the Rhythm Section — the title refers to Miles Davis's rhythm section, with Red Garland, Paul Chambers, and Philly Joe Jones.
He took the empty into the kitchen and when he came back McCaleb was standing at the stereo studying a CD case.
"This what's playing?" he asked. "Art Pepper meets the Rhythm Section?"
Bosch stepped over.
"Yeah. Art Pepper and Mile's sidemen. Red Garland on piano, Paul Chambers on bass, Philly Joe Jones on drums. Recorded here in L.A., January 19, 1957. One day. The cork in the neck of Pepper's sax was supposedly cracked but it didn't matter. He had one shot with these guys. He made the most of it. One day, one shot, one classic. That's the way to do it."
— A Darkness More Than Night
One of the most influential musicians of the post-war era, Bill Evans (1929-80) was a middle-class white intellectual introvert who did not fit the prevalent junkie profile. For the most part, he stabilized himself with methadone. His 1966 Town Hall concert was a personal triumph after an especially difficult period, and produced a livelier version of a melody he had famously recorded five years earlier. "My Foolish Heart" originated as the theme song from a movie based on "Uncle Wiggily in Connecticut" that fully justified Holden Caulfield's disdain for Hollywood.
He drove them to the dance. On the way, Mr. Arceneaux turned on the radio. Harry and Estrella sat in the back and listened to the strange music her father had tuned on the radio. No music Harry had ever heard hit him like this, the way the sound moved inside him. In his blood. He remembered his mother playing records with black men on covers but at the time he was too young to pay attention. Now he did. Estrella's father looked at him in the rearview and smiled.
— Lost Chapter "1965"
Sonny Rollins, born in New York in 1930, is the ranking tenor saxophonist of our time, and the greatest living jazz master. Along with Coltrane, he dominated the tenor for half a century, never standing still long enough for ghosts of the past to catch up. After briefly dabbling with stimulants in his youth, Sonny devoted his extra-musical life to fitness and meditation, and now, more than ever, dominates the stage like a colossus. His 1989 "For All We Know," from Falling in Love with Jazz, is typically aggressive and lyrical. Another tenor saxophonist, Branford Marsalis echoes his every phrase in the first chorus, and — following pianist Tommy Flanagan — solos right before Sonny's mighty closing statement.
She told Bosch to have a seat in the living room while she got dinner started. "If you like jazz, I have a CD over there I just bought but haven't had time to listen to," she said.
He walked over to the stereo, which was stacked on shelves next to a set of bookcases, and picked up the new disc. It was Rollins's "Falling In Love With Jazz," and inside Harry smiled because he had it at home. It was a warm connection.
— The Black Echo
Joe Henderson (1937-2001) came up during a period when narcotics began to disappear from jazz only to return a few years later as the scourge of rock. Long admired as the saxophonist's saxophonist, he made an influential series of albums in the 1960s, but after trying his hand at fusion seemed to lose his edge for a while — until 1992, when he recorded Lush Life: The Music of Billy Strayhorn. It was an unexpected breakout hit, boosting his stature while focusing attention on Strayhorn, Ellington's key collaborator for 28 years. Strayhorn wrote "Lush Life" in his teens, and Nat King Cole made it famous. Henderson plays it as an unaccompanied tour de force.
After it got dark he walked down Broadway to Mr. B's, found a stool at the bar and ordered a draft with a Jack Daniel's depth charge. There was a quintet playing on the small stage in the back, the lead on tenor saxophone. They were finishing up "Do Nothing Till You Hear from Me" and Bosch got the idea he had come in at the end of a long set. The sax was draggy. It wasn't a clean sound.
Disappointed, he looked away from the group and took a large swallow of beer. He checked his watch and knew he'd have clear driving if he left now. But he stayed. He picked the shot up and dropped it into the mug and drank deeply from the brutal mix. The group moved into "What A Wonderful World." No one in the band stepped up to sing the words but, of course, nobody could touch Louis Armstrong's vocals if they tried. It was okay, though. Bosch knew the words.
I see trees of green
Red roses, too
I see them bloom
For me and you
And I think to myself
What a wonderful world
The song made him feel lonely and sad but that was okay. Loneliness had been the trash can fire he huddled around for most of his life.
— The Last Coyote
Two reasons narcotics lost their allure in jazz circles during the '50s were the death of Charlie Parker and the arrival of Clifford Brown. The first was frightening, the second inspiring. Brownie didn't smoke, drink, or cuss, and he played like a god, giving the lie to the myth that drugs gave you an edge. Born in Wilmington in 1930, he played the trumpet with radiance, grace, and fire, winning the hearts of musicians and fans. Though best known for co-leading a band with Max Roach and Sonny Rollins, his romantic sound made a date with strings inevitable. "Willow Weep for Me" comes from a celebrated 1955 album, recorded 18 months before Brown lost his life in a car accident, at 25 — a death the jazz world continues to mourn.
He went to the stereo and loaded a compact disc, "Clifford Brown With Strings."
. . . Brownie was working through "Willow Weep For Me," his trumpet as gentle as a portrait painter's brush.
— The Last Coyote
We close with Louis Armstrong (1901-71), the genius who started it all, and the only musician to score one of his biggest hits 17 years after his death. When "What a Wonderful World" came out in 1967, it was hardly noticed; in 1987, however, it was revived for the score of Good Morning, Vietnam, and quickly shot up the charts. Satchmo never messed with narcotics, but he would be awfully sad to learn that his favorite natural herb is still illegal, even for medicinal use.
She crossed the room to him. Without a word she climbed onto the chair in front of him, her knees along side his thin thighs. She lowered her hips onto his lap. She opened her bathrobe and pulled his face forward to her breasts. She held him there and he cried again. No words were spoken at first. She quietly and tenderly shushed him. And then she started to sing to him.
The song I knew and she sung it well. Her voice was as soft as a breeze, where as the song's original voice carried the rasp of all the world's anguish in it. I didn't think anyone could ever touch Louis Armstrong but Danny Cross certainly did.
I see skies of blue
And clouds of white
The bright blessed day
The dark sacred night
And I think to myself
What a wonderful world
— Lost Light